Organization Information
CFC Code:

40138
Make a Donation
Add to Gift Cart
Your Gift Cart is empty. Give it purpose - fill it with charities to receive your donation today.
Tigers in America
(aka) Tiger Sanctuaries Inc.

250 West 12th Street
New York, NY 10014
Phone
212-255-6547
about
There are 7,000 tigers in this country, more than live in the wild in the rest of the world. Many live in terrible conditions and wind up abused or abandoned. We rescue and transport them to sanctuaries that provide lifetime food, safety and medical care.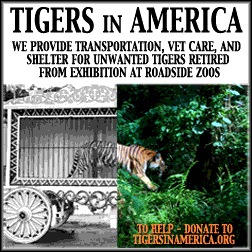 Real Life
There are 7,000 tigers in this country, more than exist in the wild in the rest of the world. They are the product of unrestricted breeding for tiger cubs used at fairs, malls and tiger shows. When the cubs become adults they are too costly to care for and wind up in roadside zoos in miserable conditions. They die prematurely of neglect, abuse or killed for their parts because they have no place to go. AZA zoos will not take these tigers.

There are however a small group of sanctuaries that will take in and provide lifetime care for unwanted tigers. They rely on local support and the dedication of their staff and volunteers to provide proper enclosures and medical care for these cats. Restricted only by the number of shelters they have, they are the last and only hope for these tigers.

In 2011 we identified the best tiger sanctuaries in this country and since then have provided the funding to rescue big cats and to construct additional shelters on sanctuary property. Tigers taken in to true sanctuaries live out their lives free from abuse and the obligation to perform.

We are the only charity dedicated to this mission and 100% of your contribution goes directly to rescues, vet care and shelter construction. Your contribution will actually save the life of a tiger.