Organization Information
CFC Code:

10477
Make a Donation
Add to Gift Cart
Your Gift Cart is empty. Give it purpose - fill it with charities to receive your donation today.
Hispanic Association of Colleges and Universities
8415 Datapoint, Suite 400
San Antonio, TX 78229
Phone
210-692-3805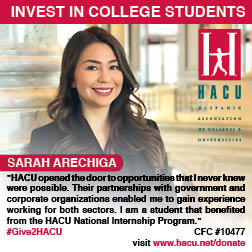 about
Hispanics are the nation's workforce of the future, and their success in college and beyond is crucial to our country's future. HACU offers internships, scholarships, and leadership development programs to sustain America's edge in the global marketplace.