Organization Information
CFC Code:

11694
Make a Donation
Add to Gift Cart
Your Gift Cart is empty. Give it purpose - fill it with charities to receive your donation today.
Blind Vietnamese Children Foundation
(aka) Viet Blind Children Foundation

PO Box 27036
San Francisco, CA 94134
Phone
888-877-0736
about
For two decades, we have assisted a number of facilities in Vietnam dedicated solely or in part to the health and welfare of visually-impaired children. Such facilities have included schools, career centers, and other health units throughout Vietnam.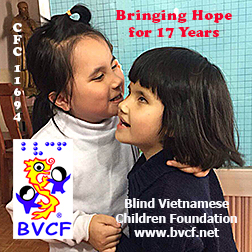 Success Story
Everyone in the world wants to live happily, to have a bright future, to have a stable career, and to be a useful citizen. So do I. I do wish to be a productive person. Unfortunately, I came to this world without sight. I thought my future would immerse in darkness as my sight is.

Luckily, one day God brought me to Nhat Hong Home for the Blind where my future has been opened gradually. The kind sisters taught me, sent me to school, and put me in the vocational program with love and care. I learned and practiced making crafts. Thanks to that, nowadays I have a stable job. I am joyful and happy to make lovely items by my own hands which I used to think were useless as my eyes in darkness. I am very delighted when my products are known more and more. Though my products are not very nice and well-done as that of sighted people, but they are carefully favored and respected with warmth. Thus, I have an additional source of motivations to learn and explore the ways to make new products. Sometimes, to learn to make a new product is very difficult for me, your encouragements give me energy to learn. My joy and happiness is truly multiplied when I have a chance to share the way to make crafts with other peers who have the same disability as mine. Each time I train a group of visually impaired friends in a remote province, my heart is full of increasing happiness and my life becomes more meaningful. I wish to continue sharing this work with more visually impaired friends all over the world, so that many other people can earn a living with this job and significantly contribute to make a better world. I am living in happiness. - An Xuan Le