Organization Information
CFC Code:

11873
Your Gift Cart is empty. Give it purpose - fill it with charities to receive your donation today.

Make a Donation
Guide Dogs of America
(aka) International Guiding Eyes Inc

13445 Glenoaks Boulevard
Sylmar , CA 91342
Phone
800-459-4843
about
Every seven minutes an American loses their sight permanently. Our free guide dogs help these individuals pursue their goal of independence with confidence and dignity.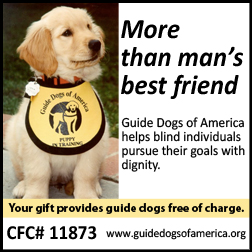 Real Life


Guide Dogs of America has completely changed my life for the better. Tibbs, my guide dog companion, has given me the confidence and independence I needed to attend Lander University in Greenwood, South Carolina. While it was scary at first and I didn't know if I could do it, Tibbs helped me to succeed. I couldn't have asked for a more perfect partner than Tibbs. After only three days he knew my schedule and where I was supposed to be. He even knew what time my classes were and more than once, when I fell asleep in the atrium, he snooted me awake when it was almost time for class.

Tibbs doesn't like to be more than a few feet from me and when I watch TV - all 70 lbs of him - sits in my lap. I can't imagine accomplishing everything I have done without him. Tibbs has truly opened up my life again and I owe it all to Guide Dogs of America!

Guide Dogs of America is wonderful. They not only breed, raise, and train their own dogs, but also offer a 21-day residency program where I learned how to work with my new guide dog companion. Guide Dogs of America does all of this at no cost to their students. Because Guide Dogs of America doesn't receive any money from the government, they rely solely on the generosity of individuals, foundations, corporations, and organizations. Thank you for supporting Guide Dogs of America!